Sponsor A Kid
Copper Cannon Camp's annual Sponsor A Kid campaign is an opportunity for people to support Copper Cannon in a very unique way. With some organizations, it's hard to tell exactly what donations go towards. But with Sponsor A Kid, it's a different story. When you sponsor a kid with Copper Cannon, your donation directly provides one week of summer camp to one camper. As always, Copper Cannon remains entirely free to campers who attend and their families. It's promoted as a free camp, but that means the funding has to come from somewhere. The Sponsor a Kid campaign, along with the Auction and Membership Appeal make up a large portion of the funding for Copper Cannon each year.
When you choose to Sponsor a Kid for a week of Copper Cannon, here is just a small sample of what you are providing them:
-Three full meals per day for the entire week, plus snacks.
-Housing/Lodging in a cabin with their "family" for the week – cabins are shared with 5-6 other campers and 1-2 staff.
-All sorts of new games, activities, learning opportunities, team building activities and adventures.
-Direct time with a staff member who cares about the child and who is an excellent role model.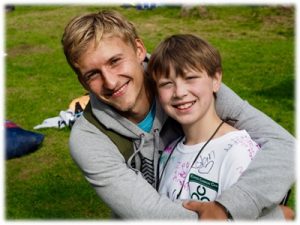 -At least one new book from the Children's Literacy Foundation as well as other educational materials. This part of the program is an effort to help prevent summer learning loss.
-A camp t-shirt that the child can have friends and staff sign as a keepsake.
-Access to free clothing and school supplies if the campers need it for the upcoming school year.
-An overnight campout, where kids spend night out, cooking and bonding around a campfire.
-The chance to meet lifelong friends in an environment free from the usual pressures of school and society.
-Memories that will last forever.
-And so, so much more.
Keep an eye out for our annual Sponsor a Kid campaign as it gets closer. If you simply can't wait any longer to start making a difference in the life of a child, please feel free to visit our Support page for all the different ways you can help out.